Akrotiri
Akrotiri
n.
Akrotiri Sovereign Base Area, peninsula on the southwest coast of Cyprus

Akrotiri
Akrotiri
may refer to:
Places
Cyprus

Akrotiri
Flag of Akrotiri


Background
By terms of the 1960 Treaty of Establishment that created the independent Republic of Cyprus, the UK retained full sovereignty and jurisdiction over two areas of almost 254 square kilometers in total: Akrotiri and Dhekelia. The southernmost and smallest of these is the Akrotiri Sovereign Base Area, which is also referred to as the Western Sovereign Base Area.
Map of Akrotiri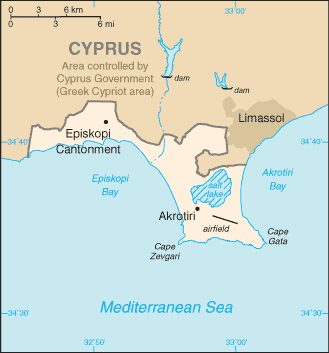 More about Akrotiri:

Akrotiri

Chief of state: Queen ELIZABETH II (since 6 February 1952)

Head of government: Administrator Air Vice-Marshal Richard LACEY (since 26 April 2006); note - reports to the British Ministry of Defense

Elections: none; the monarch is hereditary; the administrator is appointed by the monarch


Akrotiri
s.
Akrotiri, halvøy på den sørvestlige kysten av Kypros
---
|
Akrotiri in French
|
Akrotiri in Italian
|
Akrotiri in Spanish
|
Akrotiri in Dutch
|
Akrotiri in Portuguese
|
Akrotiri in German
|
Akrotiri in Russian
|
Akrotiri in Japanese
|
Akrotiri in Korean
|
Akrotiri in Turkish
|
Akrotiri in Hebrew
|
Akrotiri in Arabic
|
Akrotiri in Polish
|
Akrotiri in Hungarian
|
Akrotiri in Czech
|
Akrotiri in Lithuanian
|
Akrotiri in Catalan
|
Akrotiri in Albanian
|
Akrotiri in Bulgarian
|
Akrotiri in Danish
|
Akrotiri in Finnish
|
Akrotiri in Norwegian
|
Akrotiri in Swedish
|
Akrotiri in Filipino