Alpha particle
alpha particle
positively charged particle made up of two protons and two neutrons, nucleus of a helium atom


Alpha particle
Alpha particles
consist of two
protons
and two
neutrons
bound together into a particle identical to a
helium
nucleus
. They are generally produced in the process of
alpha decay
, but may also be produced in other ways. Alpha particles are named after the first letter in the
Greek alphabet
,
a
. The symbol for the alpha particle is a or a
2+
. Because they are identical to helium nuclei, they are also sometimes written as or indicating a helium ion with a +2 charge (missing its two electrons). If the
ion
gains electrons from its environment, the alpha particle can be written as a normal (electrically neutral) helium atom .

alpha particle
---
Noun
1. a positively charged particle that is the nucleus of the helium atom; emitted from natural or radioactive isotopes
(hypernym) particle






alpha particle
Alpha particle
The fast moving nucleus of a
helium
atom. It is emitted in one type of
radioactivity
known as alpha decay. The nucleus has too much energy and too many protons but finds it energetically most feasible to eject a preformed helium nucleus rather than emit a proton. The alpha particle is monoenergetic and its energy, and also the half life, uniquely identify the radionuclide. Naturally occurring alpha particle emitters are heavier than lead (Z=82). See also
atomic nucleus
.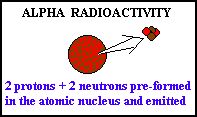 ---
|
Alpha particle in French
|
Alpha particle in Italian
|
Alpha particle in Spanish
|
Alpha particle in Dutch
|
Alpha particle in Portuguese
|
Alpha particle in German
|
Alpha particle in Russian
|
Alpha particle in Japanese
|
Alpha particle in Greek
|
Alpha particle in Korean
|
Alpha particle in Turkish
|
Alpha particle in Hebrew
|
Alpha particle in Arabic
|
Alpha particle in Thai
|
Alpha particle in Polish
|
Alpha particle in Hungarian
|
Alpha particle in Czech
|
Alpha particle in Lithuanian
|
Alpha particle in Latvian
|
Alpha particle in Croatian
|
Alpha particle in Urdu
|
Alpha particle in Bulgarian
|
Alpha particle in Danish
|
Alpha particle in Finnish
|
Alpha particle in Romanian
|
Alpha particle in Swedish
|
Alpha particle in Farsi
|
Alpha particle in Macedonian
|
Alpha particle in Hindi
|
Alpha particle in Indonesian
|
Alpha particle in Vietnamese