Belgium
Belgium
n.
(Kingdom of Belgium) monarchy country in western Europe

Belgium
Belgium
(; ; ; ), officially the
Kingdom of Belgium
, is a
sovereign state
in
Western Europe
. It is a founding member of the
European Union
and hosts several of the EU's official seats and as well as the headquarters of many major international organizations such as
NATO
. Belgium covers an area of and has a population of about 11 million people.

Belgium
---
Noun
1. a monarchy in northwestern Europe; headquarters for the European Union and for the North Atlantic Treaty Organization
(synonym) Kingdom of Belgium, Belgique
(hypernym) European country, European nation
(member-holonym) Benelux
(part-holonym) Europe
(member-meronym) Belgian
(part-meronym) Bruxelles, Brussels, Belgian capital, capital of Belgium
(class) Bouvines






Belgium
Flag of Belgium


Background
Belgium became independent from the Netherlands in 1830 and was occupied by Germany during World Wars I and II. It has prospered in the past half century as a modern, technologically advanced European state and member of NATO and the EU. Tensions between the Dutch-speaking Flemings of the north and the French-speaking Walloons of the south have led in recent years to constitutional amendments granting these regions formal recognition and autonomy.
Map of Belgium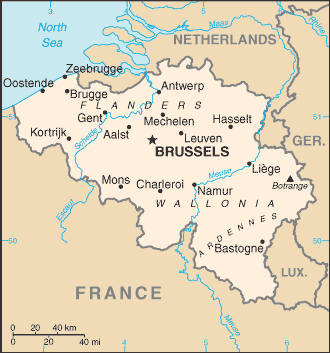 More about Belgium:
Belgium
N
Belgium| country of Belgae; (tribe of N Gaul)

---
|
Belgium in French
|
Belgium in Italian
|
Belgium in Spanish
|
Belgium in Dutch
|
Belgium in Portuguese
|
Belgium in German
|
Belgium in Russian
|
Belgium in Japanese
|
Belgium in Greek
|
Belgium in Korean
|
Belgium in Turkish
|
Belgium in Hebrew
|
Belgium in Arabic
|
Belgium in Thai
|
Belgium in Polish
|
Belgium in Hungarian
|
Belgium in Czech
|
Belgium in Lithuanian
|
Belgium in Latvian
|
Belgium in Catalan
|
Belgium in Croatian
|
Belgium in Serbian
|
Belgium in Albanian
|
Belgium in Bulgarian
|
Belgium in Danish
|
Belgium in Finnish
|
Belgium in Norwegian
|
Belgium in Romanian
|
Belgium in Swedish
|
Belgium in Farsi
|
Belgium in Afrikaans
|
Belgium in Latin
|
Belgium in Armenian
|
Belgium in Hindi
|
Belgium in Indonesian
|
Belgium in Malay
|
Belgium in Filipino