Brazil
Brazil
n.
(Federative Republic of Brazil) country in South America

Brazil

Brazil
---
Noun
1. the largest Latin American country and the largest Portuguese speaking country in the world; located in the central and northeastern part of South America; world's leading coffee exporter
(synonym) Federative Republic of Brazil, Brasil
(hypernym) South American country, South American nation
(member-holonym) Organization of American States, OAS
(part-holonym) South America
(member-meronym) Brazilian
(part-meronym) Triple Frontier



brazil
---
Noun
1. three-sided tropical American nut with white oily meat and hard brown shell
(synonym) brazil nut
(hypernym) edible nut
(part-holonym) brazil nut, brazil-nut tree, Bertholletia excelsa






brazil
Rzecz.
orzech brazylijski
Brazil
Flag of Brazil


Background
Following three centuries under the rule of Portugal, Brazil became an independent nation in 1822. By far the largest and most populous country in South America, Brazil overcame more than half a century of military intervention in the governance of the country when in 1985 the military regime peacefully ceded power to civilian rulers. Brazil continues to pursue industrial and agricultural growth and development of its interior. Exploiting vast natural resources and a large labor pool, it is today South America's leading economic power and a regional leader. Highly unequal income distribution remains a pressing problem.
Map of Brazil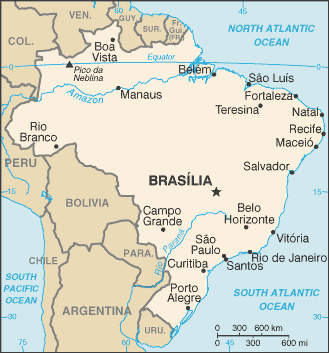 More about Brazil:
---
|
Brazil in French
|
Brazil in Italian
|
Brazil in Spanish
|
Brazil in Dutch
|
Brazil in Portuguese
|
Brazil in German
|
Brazil in Russian
|
Brazil in Japanese
|
Brazil in Greek
|
Brazil in Korean
|
Brazil in Turkish
|
Brazil in Hebrew
|
Brazil in Arabic
|
Brazil in Thai
|
Brazil in Polish
|
Brazil in Hungarian
|
Brazil in Czech
|
Brazil in Lithuanian
|
Brazil in Latvian
|
Brazil in Catalan
|
Brazil in Croatian
|
Brazil in Albanian
|
Brazil in Urdu
|
Brazil in Bulgarian
|
Brazil in Danish
|
Brazil in Finnish
|
Brazil in Norwegian
|
Brazil in Romanian
|
Brazil in Swedish
|
Brazil in Farsi
|
Brazil in Macedonian
|
Brazil in Afrikaans
|
Brazil in Armenian
|
Brazil in Hindi
|
Brazil in Indonesian
|
Brazil in Vietnamese
|
Brazil in Filipino