Romania
Romania
n.
republic in southeastern Europe (also Rumania)

Romania
Romania
( ; ) is a
unitary
semi-presidential republic
located in
Southeastern Europe
, bordering the
Black Sea
, between
Bulgaria
and
Ukraine
. It also borders
Hungary
,
Serbia
, and
Moldova
. It covers and has a
temperate
-
continental climate
. With its 19.94 million inhabitants, it is the
seventh most populous
member state of the
European Union
. Its capital and largest city,
Bucharest
, is the
sixth largest city
in the EU. The
River Danube
, which is Europe's second longest river after the Volga, rises in Germany and flows southeastwards for a distance of 2,857 km, coursing through ten countries before emptying in Romania's
Danube Delta
. Some of its 1,075 km length bordering the country drains the whole of it. The
Carpathian Mountains
, with their tallest peak
Moldoveanu
at , cross Romania from the north to the southwest.

Romania
---
Noun
1. a Balkan republic in southeastern Europe
(synonym) Roumania, Rumania
(hypernym) Balkan country, Balkan nation, Balkan state
(part-holonym) Europe
(member-meronym) Romanian, Rumanian
(part-meronym) Bucharest, Bucharesti, Bucuresti, capital of Romania






Romania
nf.
Romania, republic in southeastern Europe
Romania
Flag of Romania


Background
The principalities of Wallachia and Moldavia - for centuries under the suzerainty of the Turkish Ottoman Empire - secured their autonomy in 1856; they united in 1859 and a few years later adopted the new name of Romania. The country gained recognition of its independence in 1878. It joined the Allied Powers in World War I and acquired new territories following the conflict. In 1940, it allied with the Axis powers and participated in the 1941 German invasion of the USSR. Three years later, overrun by the Soviets, Romania signed an armistice. The post-war Soviet occupation led to the formation of a Communist "people's republic" in 1947 and the abdication of the king. The decades-long rule of dictator Nicolae CEAUSESCU, who took power in 1965, and his Securitate police state became increasingly oppressive and draconian through the 1980s. CEAUSESCU was overthrown and executed in late 1989. Former Communists dominated the government until 1996, when they were swept from power by a fractious coalition of centrist parties. In 2000, the center-left Social Democratic Party (PSD) became Romania's leading party, governing with the support of the Democratic Union of Hungarians in Romania (UDMR). The opposition center-right alliance formed by the National Liberal Party (PNL) and the Democratic Party (PD) scored a surprise victory over the ruling PSD in December 2004 presidential elections. The PNL-PD alliance maintains a parliamentary majority with the support of the UDMR, the Humanist Party (PUR), and various ethnic minority groups. Although Romania completed accession talks with the European Union (EU) in December 2004, it must continue to address rampant corruption - while invigorating lagging economic and democratic reforms - before it can achieve its hope of joining the EU, tentatively set for 2007. Romania joined NATO in March of 2004.
Map of Romania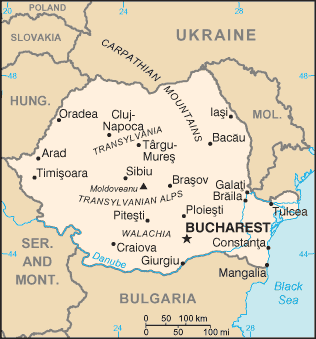 More about Romania:
---
|
Romania in French
|
Romania in Italian
|
Romania in Spanish
|
Romania in Dutch
|
Romania in Portuguese
|
Romania in German
|
Romania in Russian
|
Romania in Japanese
|
Romania in Greek
|
Romania in Korean
|
Romania in Turkish
|
Romania in Hebrew
|
Romania in Arabic
|
Romania in Thai
|
Romania in Polish
|
Romania in Hungarian
|
Romania in Czech
|
Romania in Lithuanian
|
Romania in Latvian
|
Romania in Catalan
|
Romania in Croatian
|
Romania in Serbian
|
Romania in Albanian
|
Romania in Bulgarian
|
Romania in Danish
|
Romania in Finnish
|
Romania in Norwegian
|
Romania in Romanian
|
Romania in Swedish
|
Romania in Farsi
|
Romania in Macedonian
|
Romania in Afrikaans
|
Romania in Armenian
|
Romania in Hindi
|
Romania in Indonesian
|
Romania in Vietnamese
|
Romania in Pashto
|
Romania in Filipino