Slovakia
Slovakia
n.
country in central Europe (formerly part of Czechoslovakia)

Slovakia

Slovakia
---
Noun
1. a landlocked republic in central Europe; separated from the Czech Republic in 1993
(synonym) Slovak Republic
(hypernym) European country, European nation
(part-holonym) Europe
(member-meronym) Slovak
(part-meronym) Bratislava, capital of Slovakia, Pressburg, Pozsony






Slovakia
Flag of Slovakia


Background
In 1918 the Slovaks joined the closely related Czechs to form Czechoslovakia. Following the chaos of World War II, Czechoslovakia became a Communist nation within Soviet-ruled Eastern Europe. Soviet influence collapsed in 1989 and Czechoslovakia once more became free. The Slovaks and the Czechs agreed to separate peacefully on 1 January 1993. Slovakia joined both NATO and the EU in the spring of 2004.
Map of Slovakia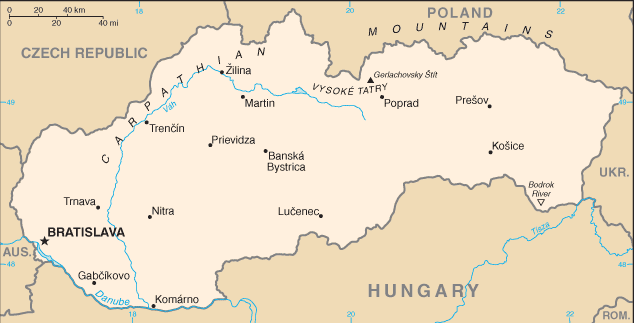 More about Slovakia:
Slovakia
SK

---
|
Slovakia in English
|
Slovakia in French
|
Slovakia in Italian
|
Slovakia in Spanish
|
Slovakia in Dutch
|
Slovakia in Portuguese
|
Slovakia in German
|
Slovakia in Russian
|
Slovakia in Japanese
|
Slovakia in Greek
|
Slovakia in Korean
|
Slovakia in Turkish
|
Slovakia in Hebrew
|
Slovakia in Arabic
|
Slovakia in Thai
|
Slovakia in Polish
|
Slovakia in Hungarian
|
Slovakia in Czech
|
Slovakia in Lithuanian
|
Slovakia in Latvian
|
Slovakia in Catalan
|
Slovakia in Croatian
|
Slovakia in Serbian
|
Slovakia in Albanian
|
Slovakia in Bulgarian
|
Slovakia in Danish
|
Slovakia in Finnish
|
Slovakia in Norwegian
|
Slovakia in Romanian
|
Slovakia in Swedish
|
Slovakia in Farsi
|
Slovakia in Macedonian
|
Slovakia in Afrikaans
|
Slovakia in Armenian
|
Slovakia in Vietnamese
|
Slovakia in Filipino