Tajikistan
Tajikistan
n.
country in central Asia (part of the former Soviet Union)

Tajikistan
Tajikistan
(, , or ; ), officially the
Republic of Tajikistan
(,
Çumhuriji Toçikiston/Jumhuriyi Tojikiston
; ,
Respublika Tadzhikistan
), is a mountainous
landlocked
sovereign country in
Central Asia
. With an estimated 8 million people in 2013, it is the 98th most
populous country
and with an area of , it is the 96th
largest country
in the world. It is bordered by
Afghanistan
to the south,
Uzbekistan
to the west,
Kyrgyzstan
to the north, and
China
to the east.
Pakistan
lies to the south separated by the narrow
Wakhan Corridor
. Traditional homelands of Tajik people included present-day Tajikistan, Afghanistan and Uzbekistan.

Tajikistan
---
Noun
1. a landlocked mountainous republic in southeast central Asia north of Afghanistan; formerly an Asian soviet
(synonym) Republic of Tajikistan, Tadzhikistan, Tadzhik, Tadjik, Tajik
(hypernym) Asian country, Asian nation
(member-holonym) Commonwealth of Independent States, CIS
(part-holonym) Asia
(member-meronym) Tajik, Tadzhik
(part-meronym) Dushanbe, Dusanbe, Dyushambe, Stalinabad, capital of Tajikistan






Tajikistan
Flag of Tajikistan


Background
Tajikistan became independent in 1991 following the breakup of the Soviet Union and has now completed its transition from the civil war that plagued the country from 1992 to 1997. There have been no major security incidents in recent years, although the country remains the poorest in the region. Attention by the international community in the wake of the war in Afghanistan has brought increased economic development assistance, which could create jobs and increase stability in the long term. Tajikistan is in the early stages of seeking World Trade Organization membership and has joined NATO's Partnership for Peace.
Map of Tajikistan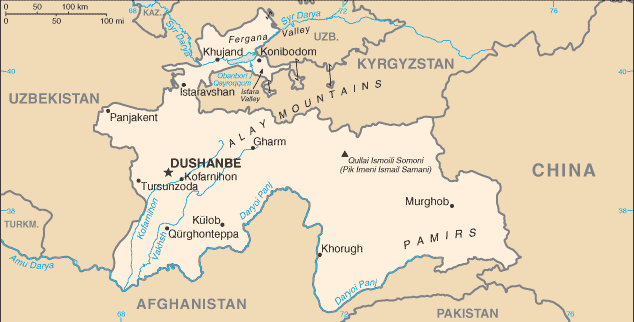 More about Tajikistan:
Tajikistan

Chief of state: President Emomali RAHMON (since 6 November 1994; head of state and Supreme Assembly chairman since 19 November 1992)

Head of government: Prime Minister Oqil OQILOV (since 20 January 1999)

Cabinet: Council of Ministers appointed by the president, approved by the Supreme Assembly

Elections: president elected by popular vote for a seven-year term (eligible for a second term); election last held 6 November 2006 (next to be held in November 2013); prime minister appointed by the president

Election results: Emomali RAHMON reelected president; percent of vote - Emomali RAHMON 79.3%, Olimzon BOBOYEV 6.2%, other 14.5%


---
|
Tajikistan in French
|
Tajikistan in Italian
|
Tajikistan in Spanish
|
Tajikistan in Dutch
|
Tajikistan in Portuguese
|
Tajikistan in German
|
Tajikistan in Russian
|
Tajikistan in Japanese
|
Tajikistan in Greek
|
Tajikistan in Korean
|
Tajikistan in Turkish
|
Tajikistan in Hebrew
|
Tajikistan in Arabic
|
Tajikistan in Thai
|
Tajikistan in Polish
|
Tajikistan in Hungarian
|
Tajikistan in Czech
|
Tajikistan in Lithuanian
|
Tajikistan in Latvian
|
Tajikistan in Catalan
|
Tajikistan in Croatian
|
Tajikistan in Albanian
|
Tajikistan in Bulgarian
|
Tajikistan in Danish
|
Tajikistan in Finnish
|
Tajikistan in Norwegian
|
Tajikistan in Romanian
|
Tajikistan in Swedish
|
Tajikistan in Farsi
|
Tajikistan in Armenian
|
Tajikistan in Vietnamese
|
Tajikistan in Pashto
|
Tajikistan in Filipino